Occupation: Beauty Professional & Blogger
Favourite Everblinks Style:
Hmmm, it changes weekly but I would have to say Love-a-Flare as they were the the first pair that I fell in love with as they are just perfect for everyday wear but Volume Vixen and Ooh La Lash have now become a firm favourite of mine for all occasions.
I love breakfast, (especially when on holidays) and Pancakes with maple syrup and fresh berries is a firm favourite of mine as I am addicted to pancakes.
'You've always had the power my dear, you just had to learn it for yourself." – Wizard of Oz.
(Favourite film ever and this quote is actually framed and hangs on the wall above my desk!)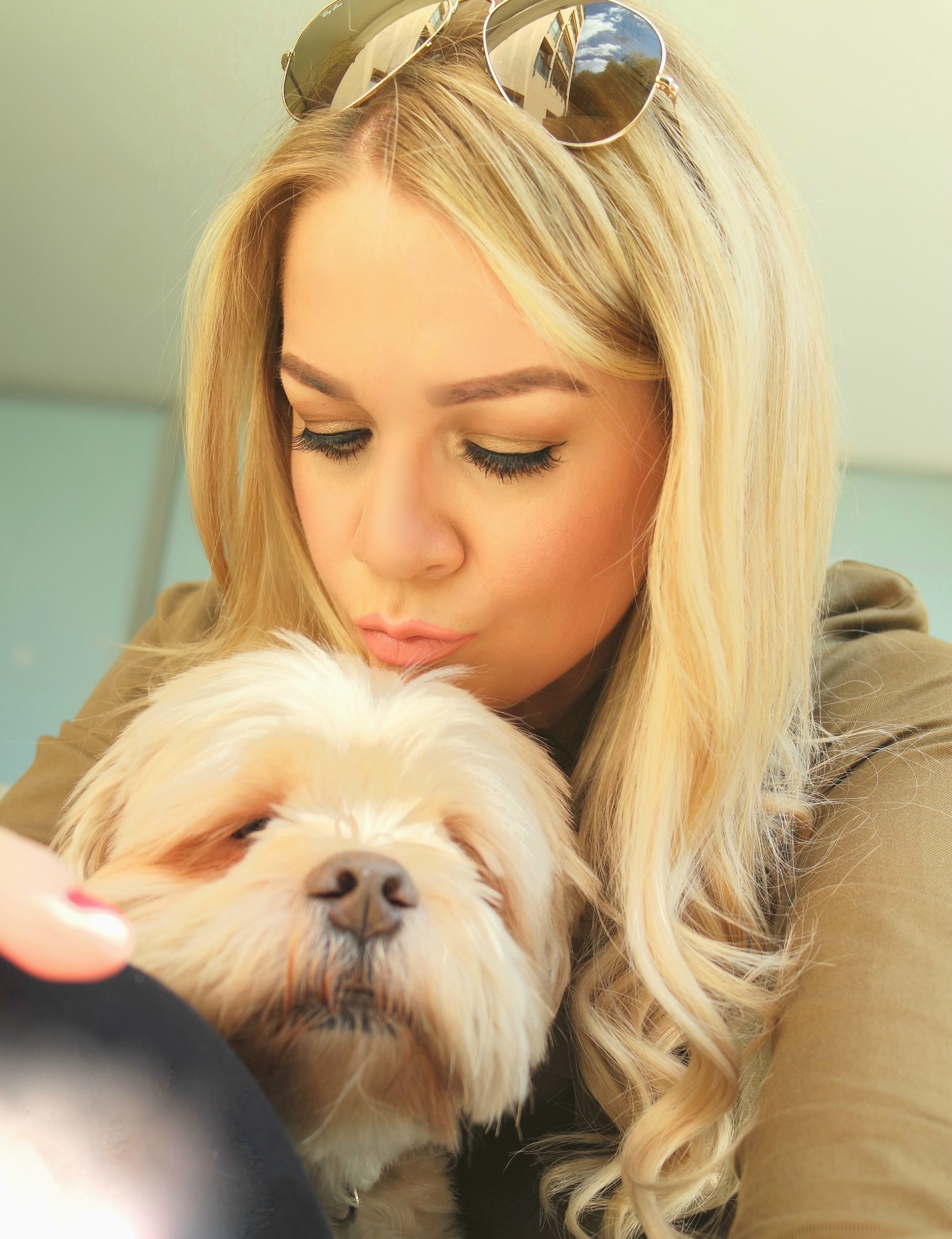 1. So, who is in the picture with you?
My little dog Louis, a 6 year old Lhasa Apso. He is my baby, my best friend and my partner in crime who is with me everyday. I literally do nothing and go no where without him. He is super cute, very funny and far too intelligent for his own good. Oh and is always in charge! 
2. How long have you been a blogger?
About 4 years now but only over the past two years have I started to make it more full time. 
3. Tell us about your journey to becoming blogger
I left the UK in 2010 and relocated to Monaco with my husband for his work. After leaving a busy London where I was a Manager for Space NK at the time, I decided to set up my own mobile beauty business specialising in eyelash extensions and make-up here in Monaco. Alongside this I started writing a blog on the side as a hobby to keep me occupied having left all my friends and family behind in the UK, then somehow it become a source of my business enquires so my business grew. After a good 3 years, I took some time out to plan my wedding and then just took to blogging full time. Now it has grown and grown and I could not be happier doing what I love the most, writing, reviewing products, working with brands and advising about all things beauty!
4. What's the biggest life/career lesson you've learned to date?
Never be afraid to try. I always wanted to set up my own beauty business but having a very good 'stable' job at the time, I was too scared to make that jump but moving to Monaco gave me that push I needed and to move to another country entirely was another big gamble also but unless you try you never know and thankfully, I have never looked back since! Life is too short not to try doing something that could potentially make you very happy.
5. If you weren't a blogger, what else would you do?
I would be working in the beauty industry for sure, most probably with my own freelance business again, as beauty has been my career my whole life; it is a true passion for me!
6. Where do you get your inspiration from?
Instagram, fashion brands, new makeup collections, other blogs and bloggers and my from own experiences. I get inspired by what questions readers ask me which then gives me some subject ideas as I am all for writing about what people would like to see and read about or need help with.
7. Where are you from and what is the biggest misconception about your country?
I am originally from Essex/Suffolk in the UK born and bred but I now live in Monaco and have done so for the past 6 years. The biggest misconception about Monaco is that it is full on glamour all of the time. Don't get me wrong, it can be but most of the time its very much 'anything goes'. Being a tourist trap, it is full of people from all walks of life and is actually a very relaxed place. It is very small being only 
2 km
2
 but this little Principality holds some of the most beautiful scenery as does the French Riviera. Oh and one huge downside, it is very expensive! One of the biggest misconceptions about the UK is that the weather is always bad! It is certainly very unpredictable and I much prefer the weather here in Monaco but the UK is very seasonal that's for sure!
8. Do you have any tips or advice for aspiring bloggers out there?